Permantently durable Thermo-Transfer labels
Customised labels on a roll
Customized roll labels in different materials, colors, formats and sizes
The LSUK thermal transfer labels are produced as standard on rolls up to 110mm width (also wider on request). The labels are excellent for durable printing with a thermal transfer printer system. On request, we manufacture customer-specific, matt and glossy roll labels made of clear, white, metallized and colored polyester with permanent acrylic adhesive.
The Labelsolutions UK roll label systems are weatherproof, smudge-proof, tear-resistant, temperature-resistant (-40°C to 150°C), and UL tested. The labels are delivered in packaging units of 1000/2500/5000 labels per roll. In conjunction with resin ribbons (AXR8, K500), the labels can be ordered blank, partially pre-printed or pre-printed.
We offer labels on rolls with a 76.2 mm roll core for industrial printers, a 25.4 mm roll core for mini desktop printers and a 40 mm roll core for special productions.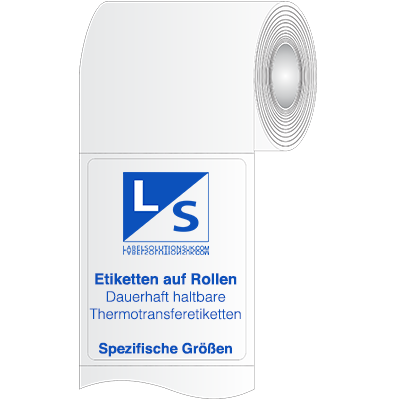 Adesive variants from LSUK LTD:
P=Permanent acrylic adhesive
AB=removeable adhesive
Resistant to:
oil
petrol
chemicals
humidity
abraison
solvent
cleaning supplies
pcb-washing
uv-light rsistant
autoclave
sterilization